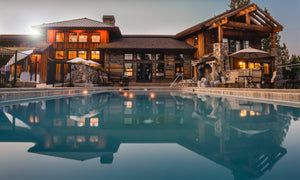 Inn Keeping 101
The sharing economy has hit my neighborhood, and it may hit yours, too. Notice strangers in your neighbors' driveway? They just may be renters from online sites that offer visitors a chance to experience what it's really like to live in Boston! Highland Park, Ill.! Santa Monica, Calif.! rather than stay in less personal hotels, inns, and B&Bs.
I never pictured myself as Mary Frann, Bob Newhart's wife in the '70s sitcom, Newhart, in which he played an innkeeper in a bucolic Vermont village, and she was his right hand. While I love having guests stay in my house, eat my cooking, and drink my wine, changing sheets, doing more laundry, and dusting aren't skills that I relish or have honed.
However, when a cousin, a real-estate professional, inquired if I wanted to rent out my home for a summer, I replied fast, "Of course, not!" Why would I want strangers peering into my refrigerator, checking my medicine cabinet (Steve Martin in the Father of the Bride remake), or studying framed photos on my piano. Moreover, would I even want them playing my family baby grand with dirty hands or putting their feet–and shoes–on my nicely upholstered seating or coffee tables? And would they remember the rule of today's healthy traveler: Don't put a suitcase atop a bed for fear of welcoming uninvited bed bugs.
"You might earn extra income," my cousin relayed. My accountant informed me that renting would also allow me to deduct and depreciate home improvements. The imagined sound of ka-ching became music to my ears. My head buzzed with possibilities –a new roof, one new bathroom, refinished stairway treads, a bigger deck and fire pit. Suddenly, I realized the process seemed familiar. I had done this before. Writing a profile to rent my house was similar to the online dating profile I had crafted post-divorce. All I had to do was interchange the guy of my dreams for the renters I wanted to attract–respectful and cash rich. Better yet if they didn't ask to bring  pets, children, or make what I considered excessive requests such as the one potential guest who wanted to host a rehearsal dinner in my yard. Mazel tov, but not here.
I lined up photos to post, studied the competition to determine my nightly price, as well as what others offered to be hospitable–breakfast foods, pods for a coffee maker, welcome bottle of wine, information about area activities. I printed a list of  my house rules and tried not to make it too off-putting, so renters would still want to stay: a maximum of six guests (no extra guests on air mattresses or on couches); no food or drink upstairs, no red wine drinking in certain rooms, use of a house key and alarm code when leaving, and no use of my best dishes and crystal. I had put away my silver and jewelry.
I posted my listing with color photos and waited. Requests poured in online. In response, I asked why they were coming and their professions, my form of vetting as a reporter. Flattery from prospects often helped seal a deal. "You have a beautiful home," or "Great location!" At the same time, requests for lower rates surprised–and annoyed–me. I came to understand that anything's fair-game in the new economy. I also realized that I may have seemed inflexible at times. "I understand your dog is well trained, but I don't permit pets," I replied to one person multiple times. I also experienced some snarky remarks: "Why didn't you say you were booked so we didn't waste time emailing?" They were right. I updated my online calendar.
I didn't flinch at the image of strangers sleeping in my bed, however, which surprised friends. "I could never do what you're doing," most said.
When the first guests came for a nearby college graduation from their home in Rome where they owned hotels, I envisioned la dolce vita. They enjoyed their visit and asked to extend their stay. They raved afterward, too. "Barbara was a fantastic hostess….Her house is beautifully decorated…" Wow, this was easy, I thought.
It was in most cases, but there were disappointments. A good glass was broken, lights were left on, I returned twice to an unsecured house, and some cigarette butts littered my front porch. I added no-smoking to my rules. Fortunately, nothing was stolen. But I resented some guests' less than appreciative attitudes. When six thirtysomething lawyers came for a wedding, I texted once or twice after I had left, "Is all OK?" thinking I was being maternal. I got a surprising text back, "It was unpleasant to receive multiple emails while we were staying in your house asking how things were going….." Whoa, I thought. I guess they felt like I was micromanaging. Had I channeled the late Leona Helmsley?
One family was unhappy with the master bedroom mattress, unloaded but recently run dishwasher–I wanted them to have clean dishes but didn't have time to empty it as I hurried away. I made a few other faux pas. They were right, but how about a dose of reality?
I knew that living for a few days in my home in a charming village was their fantasy, yet it's a lived-in house, not a full-time business as some listings have become. When I became a renter and stayed in one listing abroad, the apartment was spartanly furnished, we could barely find places to sit down or rest books and a glass of wine, as well as other niceties, and the image of the place didn't match what had been shown. The owner had multiple offerings in the building.
I now personally know how Uber drivers, restaurateurs, and hoteliers feel when reviews don't rate five stars. I've learned that I can handle constructive criticism more from a family member, friend, and editor than from a stranger about my home, which reflects decades of hard-earned funds, work, and collections. My house is a mirror of who I am, and how I like to live.
Part II and III to follow on rules to follow as the host and as the renter.
---