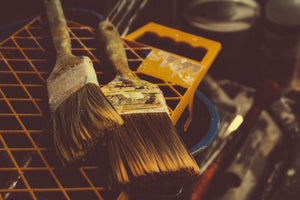 Ode to a Proficient Contractor
"'Beauty is truth; truth, beauty'–that is all Ye know on earth, and all ye need to know."
When John Keats wrote his famous "Ode to a Grecian Urn," these two iconic lines affirm the equation of beauty and truth, and in doing so, acknowledge the geometry of superb and lasting art as the urn. Although this blog is not a poem and it certainly isn't about art, per se, my prose and praise is analogous to Keats' sentiments vis-à-vis the way I feel about my new bathroom… and the skilled craftsman, Jason, who transformed it from old, ugly, and dark into the nicest, brightest, and lest we forget, functional, room in my house.
And yes, I can say it unabashedly, "I love Jason," and this is my nod to that affection. But wait. This is not a typical love story about the hearts, candies, and flowers of this month's Valentine's Day or the cliché of the single gal who falls passionately for her contractor. Rather, this is a short account of how I fell for his demolishing, tiling, painting, and other skills, as well as his work ethic, kindness, and consideration.
Let me note that it's not out of desperation that I love or appreciate Jason. Most women today have become strong, independent, and capable on our own. It's just that when it comes to certain repairs and work that we haven't yet mastered that we still look to our contractors who are more often than not guys (although my writing partner Margaret's contractor, who did a facelift on her house before she sold it, was a very capable woman). We ask them to handle our major remodelings (we're talking houses here).
Through the years, I had tackled three major kitchen redos, along with some bathrooms, and other home projects, hiring what I felt were responsible and talented tradespeople. But for one of the first more major changes—a gut-redo of a full but small bathroom in the first house I bought and owned on my own, I froze. I wanted someone really competent to undo a bathroom that had been remodeled in the past but poorly, and transform it. I also needed someone who would be working down the hall from my home office to be respectful of my space and my belongings, be fast, and quiet–no blaring music, please and thank you.
How we met
When Jason showed up to tackle some minor repairs upon a friend's recommendation, I wondered? Is he the one for me… and this undertaking? It wasn't love at first sight; he talked so quickly and breathlessly that I was exhausted at our very first "hello." However, I had heard his work was top notch and his prices were fair (they were) and he cleaned up afterward. Trash was hauled away daily! Most importantly, he showed up each morning when he said he would. I decided this was a relationship worthy of my time. I thought, "Just speak up; he's not a mind reader," so I asked if he could speak slower and come up for air. He laughed and said, "Sure."
We soon were planning the bath redo a deux. We were equal partners in this venture since I decided I wasn't hiring a designer or architect. With such a small space, my frequent writing about remodelings, and all the online design sites such as Allmodern.com and Houzz.com, plus plenty of good brick-and-mortar resources in my area and one friend who's a decorator and another an architect, I could make all the decisions with others' input. Jason was flexible and amenable to making some changes along the way as work and results unfolded. For example, he wasn't sure what he'd unearth underneath the floorboards, in the walls of my 1797 home, or if the hideous big soffit could or could not come down or if it held some important structural components (or dead animals-yuck!). He promised not to show me anything that once had been alive.
I know that despite all the horror stories of tough-to-work with contractors who end up doubling or quadrupling the budget and delay projects so homeowners start tearing out their hair, there are some guys–and gals–out there who deserve star billing. Jason's surely one!
Here's what made this work partnership succeed, and why I love him so today!
He worked up a rough estimate of what the job would cost while I worked up my budget and wish list contained in a folder of printed pages from websites and magazines I had collected. His projected cost suited me fine. We had a deal but not one sealed with a kiss.
I went shopping for a tub, vanity, toilet, medicine cabinet, tiles, floorboards, and more, then got hard-core numbers from my sources. Jason informed me I had good (i.e. expensive) taste, which was flattering, but made the budget soar. So, I went back to my sources and picked more affordable choices–trading the gorgeous green-glass subway tiles for more classic and a tad boring white subway ones, which I rationalized would help resale. My porcelain planks that looked like barn siding were in the ballpark, however, and so was my tub, vanity, medicine cabinet. The fittings, however, also had to go. "You picked the priciest kind," he said. I again traded down.
The first day Jason and his helper Arnold arrived, they got right to work, turning down my offer of fresh cups of Nespresso coffee. These guys were getting down to serious business, a good sign.
I watched the demolition and was so excited that the soffit could be removed to make the ceiling higher and that would make the small bathroom appear a bit bigger.
When they ripped up the floor tile, we found that the subfloor was rotted; it was good that I was redoing the bathroom since it might have caused leaks sooner or later, but probably sooner, Jason said. There was also evidence of some leaks from poor prior waterproofing, and the electrical work had been done horribly and probably not according to code. Jason pointed all this out and what he was going to do differently. He also showed me how the insulating wasn't thorough and could be improved. I envisioned my heating bills going south as my appreciation of Jason was going north.
With an empty space, Jason began waterproofing the walls multiple times; this bathroom was going to last forever, he said. I was so happy I made them banana nut muffins from scratch.
Before Jason finalized with his plumber how the sink would look in its place, he gave me the option of moving some pipes closer to the wall so they would be less visible. I liked that he wanted my approval. It made me feel integral to the process. I began surfing the net for the next muffin recipe to prepare. Hey, cooking for those I care about is one way I show my love and thanks.
Because the walls in my old home were uneven, he explained that he'd use a thin band of crown molding at the top to compensate after he had tiled the walls of the tub.
As I studied the room once the tub was in place, I realized its surround was too narrow to stash shampoos, soaps, and gels. I wanted a more luxe space than one with a metal shower caddy, which I equated with dorm-room decor. I asked if it was too late for a wall niche to be built, and Jason said "absolutely not." I searched online, found some nice designs to copy, and rushed off to a local bathroom supply house for small marble mosaics that we could use against the back and a marble slab for shelves. Jason and I agreed all would add some extra panache in the so-far mostly white space. We also decided on a soft gray rather than white grout, which would have gotten dirty fast and made the room look too antiseptic and stark WHITE like a lab or hospital!
I had planned to find a chic modern even quirky light pendant–think pricey–as the focal point of the room but a friend with great modern taste weighed in and said the room was too small. Jason agreed, and we went with a flat recessed can. It was less distracting and saved me money. I next picked a spiffy white sconce for over the medicine cabinet, which I found at a local modern furnishings store for a very affordable price. What's affordable? In this case $155.
Next, the floor was cemented to even it and make it sturdy for the porcelain planks to be laid. Jason used the same gray grout for consistency. I liked that he consulted me about the pattern for the boards; we decided they should look like old hardwood, similar to the way they had been laid in my downstairs rooms–staggered in different lengths rather than uniform.
I temporarily debated about installing a small flat-screen TV on an empty wall but Jason convinced me this wasn't a big enough bathroom to spend oodles of time. He further advised I should save the funds for my next project. Here's a contractor who was saving me money and planning ahead!
Deciding on the wall's paint color proved toughest. I had long wanted to try expensive paint from an English company, and thought this was the right space since the room was so small. I bought two sample cans of two different pale grays, each for $12, and we applied them to the wall, studying how they looked with the wall tiles and with the room's natural light. One was too dark and the other had a hint of purple. I went back to the store for two more samples, plus a white for the ceiling–for $36. One finally looked best but I'd have to wait days to receive my order. Jason broke the news. "Why wait? You can get good American paint from your local hardware store, and they'll mix it to look like the one you like best. It's really not worthwhile to go with the imported brand" So sensible (again). A designer friend concurred. Both Jason and my friend were helping me to save money by thinking—and buying–local. I headed off to my local hardware store, where we decided on the different sheens for walls, ceiling, and trim. I had to share with the in-house paint guru about Jason, but he didn't seem to care.
We still hadn't finalized our plans for wall shelves opposite the sink and toilet, important since my room had no closet. I studied online picks and kept coming back to ones with reclaimed barn wood boards that would add an industrial aged look, a nice contrast to the shiny smooth subway tiles and all the chrome. But instead of heading to a store, Jason add the brilliant idea of using some boards in my attic so we'd be going really green and recycling what was already here. I was falling more in love with this guy by the nanosecond. I gifted Jason and Arnold bottles of wine for their weekend as they headed home.
The room has finally come together; looks fresh, appealing, and offers me two alternatives: First, that I never use it for fear of messing all up. Second, that I start working on my laptop while sitting on the toilet and never leave it since it may now be the best-looking brand-new room in my house, albeit small but a gem.
Although my bathroom won't last for eternity, as Keats' Grecian urn did, I think of it as a certain kind of art that offers me a temporary yet happy fix for as long as it–and I–both last.
---