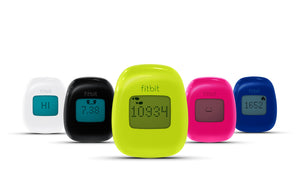 Best Buds Forever: My Fitbit and Me
When my internist suggested I get a Fitbit, a personal tracker, I had never heard of it. Fast forward two years, and it's become the hottest accessory–more than that double strand of pearls for a cute black dress or a high-end scarf in a variety of prints that can be worn multiple ways, and always looks chic.
Initially, I balked, but I begrudgingly bought one to track my steps in hopes of shedding some extra pounds I had put on. I went for the cheapest model, a clip-on in perky green. I programmed it–well, the beau did, so results would show up on my computer weekly. I followed my doctor's instructions and everywhere I went Fitbit came along like a loyal sidekick –whether to Pilates class, the gym, the grocery store, or just a walk outside.
I found I loved knowing if I hit the suggested 10,000 steps a day, and sometimes even went up and down my stairs more often to meet the goal, avoided taking elevators, or went out for an extra walk around my town. It became fun to know how many steps and miles I had walked, and I discovered pounds started coming off. I also found so many folks asked what the cute "green thing" attached to whatever I was wearing was. I was a pioneer! I remember the day well when I got a badge for hitting the number of requisite steps feeling like I had just received a championship trophy. Soon after, I started surpassing my initial goal with more badges awarded along the way.
And then one day, I took Fitbit off–probably to shower–and couldn't find it later. I was horrified. I searched and no luck. I searched more and still no luck. I found I didn't follow through on my step regimen without Fitbit. I felt I was grieving for the loss of my best friend, and went for several weeks with less bounce in my step.
What could I do? I decided I had to share with the corporate Fitbit bigwigs in their, of course, hip San Francisco office what had occurred. I emailed and explained how heartbroken I was. And the gods of weight loss seemed to take pity on me or at least Fitbit corporate did. It sent me gratis another Fitbit in the same perky green.
Soon, my new buddy and I were stepping out again together. Then one day the first Fitbit showed up; I had left it attached to a T-shirt I had used to work out and forgotten about it. I had had to cancel it when Fitbit 2.0 took over, but a few weeks later in a forgetful moment, Fitbit 2.0 went into the wash. I again was heartbroken and knew I wouldn't get another free one if the water and rumble and tumble of my machine put it to rest permanently. However, this tiny contraption proved heartier than I imagined. It survived! Ever since, I've sworn to all who would listen that I would (almost) never let it out of my sight.
I'm still doing well with my steps, sometimes up to 16,000 if I walk for miles in New York City and other great walking destinations. I'd love to try to hit 20,000, but I'm not holding my breath–literally. I've rhapsodized so much about my BFF that my daughters decided to buy Fitbits, though they've gone for the more stylish wristbands, which are easier to keep track of though a tad more expensive.
I continue to proselytize about the features of Fitbit to anyone who will listen. I recently took steps to convince a good friend to purchase one for her beau who is striving to get healthier and in shape. It's perfect, I preached, if you want to get something for someone who needs to shed pounds, wants to track heart beats, sleep patterns, or simply loves to walk. It's certainly a better gift than a vacuum cleaner, big-screen TV, or toaster!
---