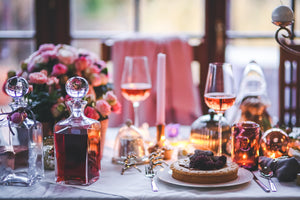 Tis the Season to Find Comfort Through Feel Good Food
Winter has arrived and when the going gets cold, those who are cold look for ways to warm up. There are multiple techniques including creative cocooning and doubling down with a good comforter, cuffing with crablike tenacity, using apps on your iPhone to warm your hands, buying space heaters to warm rooms you're in–and then our absolute favorite, ingesting comfort foods and drinks.
Without a doubt, the extra warmth of a shot of aged brandy or a hot toddy causes a surge of happiness in our hearts when we pick up our glasses to toast. Or cut to the schmaltz and pop a bite of a matzoth ball soaking in a savory chicken soup, and you've achieved the culinary version of cuddling when the inside of our stomachs are warmed and our brains float in an euphoric ether. So bring on the chicken pot pie, mac n' cheese, Mexican chili, boeuf bourguignon, mushroom barley soup, and so on.  But a warning: Beware of bulking up while warming up.  There are apps for that, too, especially our favorite Fitbit tracker. Get those 10,000 steps going before and after you chow down.
Here are 10 of our favorites.
Hot Chocolate (serves 2)
2 T good European-style Dutch-processed unsweetened cocoa
3 T sugar
¼ cup water
1¾ cups whole milk
½ t vanilla extract
Directions: Combine sugar and cocoa in saucepan, stir in water. Cook and stir over medium heat until mixture boils, stir in milk and heat. Do not boil. Remove from heat and add vanilla.  Top with marshmallows or real whipped cream and add a stick of cinnamon or some chocolate sprinkles.
Hot Butter Rum
(make a batter)
For batter:
11/2 t ground cinnamon
¼ t ground cloves
1 cup dark brown sugar
4 oz unsalted butter at room temp
11/2 t nutmeg
1/8 t salt
6 oz boiling water
11/2 oz dark rum
cinnamon stick for garnish
Directions: Mix together the batter ingredients in a large bowl and refrigerate until almost firm. Spoon 2 T hot batter into a mug. Add boiling water and stir well until dissolved. Add rum and cream (if using) and stir. Garnish: a sprinkle of nutmeg and cinnamon stick.
Chili (with meat or without to make it vegetarian)
1 T olive oil
3 medium onions, diced
6 garlic cloves, smashed
1 T chopped fresh oregano
1 T chili powder, diced
1 tsp ground cumin
1 green bell pepper, chopped
Salt and pepper to taste
1 lb ground beef sirloin or ground white meat turkey or combine turkey and ground sausage
1 -7 oz can–chipotle chilies in adobo sauce
1 28-oz can diced tomatoes
1 12-oz bottle dark beer
3/4 cup chicken broth or water (vegetarian)
1 15-oz can black beans, drained and rinsed
1 15 oz can chickpeas rinsed
1 can 15 oz pinto beans, rinsed
1 15 oz. cannellini beans, drained
1 15-oz can red kidney beans, drained
To add some heat to the chili, sprinkle a few drops of a Mexican hot sauce add a few diced jalapeno peppers
Garnishes: Shaved cheddar cheese, sour cream, cilantro, guacamole, serve with corn bread
Directions: Heat oil in a large saucepan over medium high heat. Add onions, green pepper, sauté until tender, 4 minutes. Add garlic, cook one minute or until softened. Stir in oregano, 2 t chili powder, cumin, salt and pepper. Add meat and stir until no longer red, stir to crumble.
Puree three to four chipotle chilies canned in adobo sauce. Stir them, tomatoes and remaining chili powder into meat. add beer and broth. Bring to a summer and cook uncovered for two hours, stirring occasionally.
before serving, stir in beans.  Serves 8.
Mashed Potatoes 
1 1/2 lbs Yukon Gold potatoes, peeled and cut lengthwise into quarters
1/2 teaspoon salt
4 Tbsp heavy cream
4 T sour cream
2 T butter (or more as needed)
1 T whole milk (or more as needed) Salt and Pepper
1/2 cup cut chives
Directions: Place the peeled and cut potatoes into a medium saucepan. Add cold water to the pan until the potatoes are covered by at least an inch. Add a half teaspoon of salt to the water. Turn the heat on to high, and bring the water to a boil. Reduce the heat to low to maintain a simmer, and cover. Cook for 15 to 20 minutes, or until you can easily poke through them with a fork. While the potatoes are cooking, melt the butter and warm the cream. You can heat them together in a pan on the stove or in the microwave. When the potatoes are done, drain the water and place the steaming hot potatoes into a large bowl. Pour the heated cream and melted butter over the potatoes. Mash the potatoes with a potato masher. Then use a strong wooden spoon to beat further. Add milk and chives beat until the mashed potatoes are smooth. Don't over-beat or the mashed potatoes will turn gluey. Add salt and pepper to taste.
Mac 'N Cheese
4 cups cavatappi or macaroni pasta cooked
1 cut heavy cream
4T Gruyere cheese, shredded, or cheddar if you prefer
3 T plus 1 T Parmesan cheese, grated
1T mascarpone cheese
salt and pepper to taste
Can sprinkle toasted breadcrumbs on top
Directions: Heat cream to simmer, add pasta and reduce sauce by half. Add Gruyere, Parmesan and mascarpone cheese, except for 2 T of Parmesan) and stir until it is smooth. Season with salt and pepper to taste. Place in small pot or ovenproof bowl, sprinkle reserve Parmesan cheese on top and toasted breadcrumbs and bake in 400-degree oven until cheese browns.
Beef Bourguignon
1 T olive oil
8 ozs dry cured center cut applewood smoked bacon, diced
1 ½ pounds chuck beef cut into 1-inchcubes
Kosher salt
Freshly ground black pepper
1 pound carrots, sliced diagonally into 1-inch cubes
2 yellow onions, sliced
2 teaspoons chopped garlic, 2 cloves
1 t tarragon
½ cup Cognac
1 750 ml bottle good dry red wine such as a Cote du Rhone or Pinot Noir
1 can (2 cups) beef broth
1 T tomato paste
1 t fresh thyme leaves (1/2 t dried)
4 T unsalted butter at room temperature, divided
3 T all purpose flour
1 pound frozen whole onions
1 lb. fresh mushrooms (can be a mixture of kinds) stems discarded and thickly sliced
Top with Italian parsley
Serve with country bread or sour dough, toasted or gilled and rubbed with garlic clove, ½ cup fresh parsley, optional
Directions: Preheat the oven to 250 degrees. Heat the olive oil in large Dutch oven. Add the bacon and cook over medium heat for 10 minutes, stirring occasionally, until bacon is lightly brown. Remove with a slotted spoon to large plate. Dry the beef cubes with paper towels and sprinkle them with salt and pepper. In batches in single layers, sear the beef in the hot oil for 3 to 5 minutes, turning until brown on all sides. Remove the cubes to the plate with the bacon. Toss the carrots and onions, 1 T of salt and 2 t of pepper in the fat in the pan and cook for 10 to 15 minutes, stirring occasionally, until the onions are browned. Add garlic and cook for one more minute. Add the Cognac, stand back, and ignite with a match to burn off the alcohol. Put the meat and bacon back into the pot with the juices.  Add the bottle of wine plus enough beef broth to almost cover the meat. Add the tomato paste and thyme. Bring to a summer, cover the pot with a tight-fitting lid and place in the over for about 75 minutes or until the meat and veggies are very tender when pierced with a fork. Combine 2 T of butter and flour with a fork and stir into the stew. Add frozen onions. Sauté the mushrooms in 2 T of butter for 10 minutes until lightly browned and then add to the stew. Bring the stew to a boil on top of the stove, and then lower the heat and summer for 15 minutes. Season to taste.
Leftover Mini White Meat Turkey Pot Pies
4 T unsalted butter
1 small yellow or white onion, chopped
2 medium carrots, peeled and thinly sliced
1 rib celery, thinly sliced
Kosher salt and pepper
4 T all purpose flour
21/2 cups chicken or turkey broth, warmed
1/4th cup heavy cream
3/4ths t dried thyme
1 ½ cups cooked, diced, skinless turkey breast meat
½ cup frozen peas
½ cup of sweet peppers
½ cup white button mushrooms
1/2 cup diced haricots vert
2 T chopped parsley
1 sheet frozen puff pastry, thawed
1 large egg
Directions: Preheat oven to 375 degrees. Line rimmed baking sheet with foil. Warm butter in large saucepan over medium heat. Add onion, carrot, mushrooms, sweet peppers, and celery, sprinkle with salt and pepper, and cook, stirring occasionally until tender but not browned, 10 minutes. Sprinkle flour over vegetables and cook three minutes, stirring frequently. Whisk in broth and cream. Add thyme. Bring to a summer and then reduce heat to medium-low and simmer about 8 minutes, until mixture is thickened. Taste and season with salt and pepper. Remove from heat, stir in turkey, peas and parsley.
Divide mixture among four 8 oz ramekins. Place on a baking sheet.
Place puff pastry on lightly floured work surface. Slice into four 4 inch squares and place over ramekins. In a small bowl, whisk egg with 1T water, brush pastry with egg mixture. Bake until pastry is deep gold and the filling bubbles, about 35 minutes. Let stand 5 minutes before serving.
Chocolate Chip Cookies
2 ½ sticks unsalted butter, softened (use good dense butter such as Land O Lakes)
1 ½ cups brown sugar
1 cup plus 2 T granulated sugar
3 large eggs
1 ½ t pure vanilla
3 cups all purpose flour
1 ½ t baking soda
½ t salt
½ pound milk chocolate and ½ pound semi-sweet chocolate chips (prefer Guittard)
1/3 cup nuts either pecans or walnuts
Directions: In a bowl of an eclectic mixer or with a hand mixture fitted with a paddle, beat the butter, brown sugar, granulated sugar, eggs and vanilla at medium speed until light and fluffy, about 5 minutes. In medium bowl, whisk the four with the baking soda and salt or sift together. Add dry ingredients or the wet ingredients and beat at low speed until incorporated, scraping down the bowl occasionally. Stir in the chocolate chips and then add nuts or divide dough in two and add nuts to half the mixture. Cover and refrigerate the dough until chilled, about 1 hour. Preheat oven to 350 degrees and line 2 large baking sheets with parchment paper. Scoop up two T size clumps of the dough and roll into balls (wet your hands so the dough doesn't stick). Place the balls on the baking sheets about 3 inches apart (allowing room for the cookies to spread.) Bake in the lower and middle third of the oven for about 17 minutes, until the cookies are lightly browned around the edges but still very soft in the center, shift the pans from top to bottom and front to back halfway through baking. Slide the parchment onto racks and let the cookies cool. If reusing baking sheets, run them under cold water between batches. Repeat with remaking dough. Serve the cookies warm or at room temperature. May be refrigerated then warmed in the microwave. Cookies can be frozen. Also, cookies can be stored in airtight container for up to 3 days.
Rugelach inspired by Ina Garten's 
8 oz cream cheese softened, we like Philadelphia brand
1/2 pd unsalted butter, warm
1/4 cup granulated sugar + 2 TB sugar + 2 TB sugar
1/4 t vanilla or almond extract
2 cups all-purpose flour
1/2 cup brown sugar
3 t ground cinnamon
1 cup pecans chopped well
1/2 to 3/4 cup raspberry or strawberry preserves
1 egg, 1 T milk
Directions: In a mixer, cream the cheese and butter well. Add the granulated sugar, salt, vanilla or almond extract. Slowly add the flour and mix. Put dough on a floured counter or marble slab and roll into a ball. cut into four balls, wrap each in plastic or foil and refrigerate for at least 2 hours. In a bowl, combine 2 remaining tablespoons sugar, brown sugar, 2 teaspoons cinnamon, and pecans. Roll each ball into a nice size circle about 8 to 9 inches. Spread the dough with some of the preserves so you top it nicely but not too much; same goes for the other mixture with sugar and nuts. Cut the circle into wedges like pizza slices, between 8 to 12 depending on the size of rugelach you want. Start at the wide end and roll up. Place rugelach on a baking sheet lined with parchment paper. Chill for 1 hour. Preheat oven to 350 degrees F. Brush each rugelach with a wash of egg, which you make by combining 1 egg beaten with 1 tablespoon milk. Combine 2 tablespoons granulated sugar and 1 teaspoon cinnamon or more if you like the taste better with more, and sprinkle on the rugelach. Bake for about 20 minutes until brown. Remove and cool, and you can freeze, then later thaw.
Note: We've also tried chocolate chips instead of jam, and even tried poppy seeds for a filling!
Caesar Salad fit for a King (Caesar)
1 large clove garlic, crushed
4 small anchovy fillets, mashed
Salt and pepper to taste
2 T Dijon mustard or similar kind
Juice of one lemon
1/4 cup oil
2 coddled eggs
1 head Romaine lettuce or other kind
Homemade croutons by sautéing old bread in lots of butter or oil
Parmesan cheese freshly grated, between 1/4 and 1/2 cup
Drop of vinegar
Directions: Get out a big salad bowl. Break up lettuce in the bowl after you've washed and dried it carefully. Sautee bread cubes in lots of butter until crisp. Set aside to drain. Coddle two eggs by putting fresh eggs in boiling water for 2 minutes, scraping out the shells and mixing in another bowl. When guests arrive or before you eat, take the crushed garlic clove and add it to the coddled egg mix, add 4 crushed anchovy fillets, add salt and pepper, add 2 T mustard, juice of one lemon, 1/4 cup oil, drop of red wine vinegar, toss in lettuce all broken up, add browned croutons, add Parmesan cheese to taste or about 1/4 to 1/2 cup. Toss, voila! And it's great left over the next day, too!
For those who need a winter food warm up, whether a thick steamy minestrone or luscious decadent chocolate lava cake, grab a bottle of your favorite burgundy or pinot noir and chill while chewing over the next warmer upper.
Share with us your favorite comfort food recipe, and we'll include it in an upcoming blog.
---