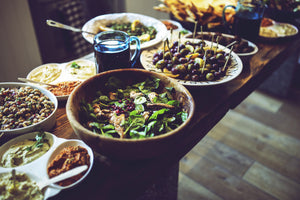 The 9 Days of Thanksgiving Past
Magazines, websites and TV food shows tell us how to get ready for big holidays with lots of food, multiple courses, gorgeous table settings, and invited folks from near and far. But here's how it –or at least was for me–is in real time and without the sugar-coating!
Day #1: Read cookbooks, food magazines like Bon Appetit and Saveur, and The New York Times online for recipe ideas. Roast beef brined? Potato latkes with caviar (the Russians after all are now pummeling ISIS and on our side, maybe)? Faux gravy without the giblets?
The voice inside your head screams: "That's not what you had last year. You can't change our usual family line-up, it's sacrilegious, you know!" 
Day #2: First trip to the grocery store. Get dried cranberries, cornmeal, whole milk, heavy cream, eggs, Libby's pumpkin in a can, smoked salmon, raspberries, dried dates, 4 Pepperidge Farm pie crusts, 4 onions, bag of celery, 8 Granny Smith apples, 2 oranges, whole pecans in a big bag, fresh cranberries in a bag.
The voice inside your head screams: "You're not making your pie crust from scratch? You're buying all organic, right? I don't think so with the bill for this at only $74." 
Day #3: Cook the cranberry sauce with grated orange zest, brown sugar, a dab of Dijon mustard, cinnamon stick, add the dates when it cools and raspberries.
The voice inside your head screams:  "I like the kind in the can, you know, not this fancy real stuff!" 
Day #4: Second trip to the grocery store. Get brining bag, more eggs, skim milk, apple cider vinegar, bag flour, box granulated sugar, 2 brown sugar boxes, big box of mushrooms, cut-up bread for extra stuffing. 3 pounds broccoli, 3 leeks, parsley.
The voice inside your head screams: "At an additional $55, is this worth it?" 
Day #5: Make stuffing from scratch by first making cornbread. Sautee onions, celery, chop pecans, add dried cranberries, sauté mushrooms, add 2 eggs, parsley chopped up, 1 cup whole milk, stir, and put in huge serving dish but don't cook yet!
The voice inside your head screams: "Are you sure you're making enough stuffing? You know that crazy uncle always wants to take some home." 
Next, make the broccoli/leek soup.
Voice inside your head screams: "I can't believe you're not making your usual apple-butternut squash soup. This green stuff looks like slime from the bottom of the sea!" 
Day #6: Buy placemats, place cards, candles, candy, buy an extra candle for you to pray it will be perfect and everyone will get along. Bill: $75.
The voice inside your head screams:  "You're putting me next to whom at the table? I can't stand him and anyway he's left handed and our elbows bump."  
Day #7: In the morning, make a crumb cake with jam from Martha Stewart's food magazine; make Julia Child's apple tart; tweak the soup with sautéed onions, leeks, and a dab of flour so it looks and tastes better. In the afternoon, fetch your 96-year-old mom and older daughter from the city; fighting traffic both ways.
The voice inside your head screams when they walk into your house, "You didn't clean off the counters enough. Your kitchen's a mess! What were you thinking? What will the guests think?" 
Of course, your mother makes a comment.
Day #8: In the morning, get the fresh turkey and fresh salmon, get a fresh French bread just in case, get more avocadoes, frozen spinach, some fresh leafy greens, and a big wedge of Gruyere cheese. You never know who's become a vegan or vegetarian overnight.
The voice inside your head screams: "We all hate turkey; why are we having it again?"
In the afternoon, let your daughter whose idea it is to brine the turkey to take charge, and find a place for all in the refrigerator.
The voice inside your head screams: "Good luck squeezing all this in and closing the door. next time buy the bigger refrigerator model. " 
Make the sweet potato casserole with the pecan top, and top with little marshmallows for more of a sugar high!
The voice inside your head screams: "You really thought you were going to skip making the casserole without the marshmallows. Furgetit!"
Hit the liquor store one last time and add an extra bottle of vodka and gin.
The voice inside your head whispers quietly: An extra cocktail will mellow me out; go for it!" Bill: $150. "If only the time put into this were in billable hours."  
Day #9, Thanksgiving Day: Get up early, set the table, start the turkey, make the mashed potatoes, have the grown kids make the spinach gratin they wanted, get ingredients ready for the gravy, get the grown kids whose idea it was to make the biscuits to start them so they're hot and flaky, take a shower, change out of the clothing you've now worn for 5 days straight. Curtain's up, 2:30 p.m., Welcome guests with cocktails, deviled eggs, cucumber hors d'oeuvres, and old-fashioned onion dip, crudités, chips, a smile, and your apron. Quickly remove the apron. Take the pecan pie your other daughter made, and ooh and aah. Dinner's READY: 3:30 p.m.
Sit down to your gorgeous table, wait for the compliments to start (you hope!). 4:00 p.m. offer seconds. (Nobody touched the soup.) 4:15 p.m. bring out the desserts. 4:30 p.m. everybody's finished and all head to the TV. 4:45 pm. start washing the dishes. 5:30 p.m., grab two Extra Strength Tynenols for your migraine that's starting. 7 p.m. say goodbye to guests who are visiting and not staying overnight. Look sad even though you're thrilled.  8:00 p.m. Get undressed, hop into bed, turn off the lights.
The evil voice inside your head suggests: "Look at travel sites for Thanksgiving away next year." The nice voice inside your head reminds you: "You'll never have the guts to do it. Just don't forget–no broccoli/leek soup under any condition."
On to Hanukkah and New Year's! Happy Holidays to all!!!
---