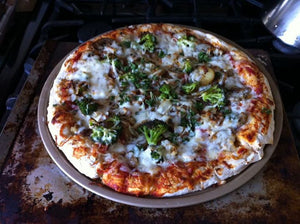 Cooking 2.0, From Hands On to Virtual Cuisine
Cooking has played a starring role in most of my life, from the time my next-door-neighbor and I began our culinary adventures baking chocolate chip cookies like those on the Toll House recipe package. We mistook the salt for the sugar and tried to compensate by adding more of everything.  Need I share more? Yet, it didn't deter me from trying again, on my own.
Married in 1971 and with Julia Child as my first muse, I worked my way through Mastering the Art of French Cooking, perhaps not as obsessively as Julie Powell, her acolyte, but my dog-eared, page stained book attests to my diligence. When Julee Russo and Sheila Lukins burst on the scene with their first Silver Palate Cookbookafter opening a tiny take-out shop near my apartment, their chicken Marbella became a sure-fire dinner recipe. I next became intrigued with Martha Stewart's recipes after attending her first catered event–a benefit for the Museum of American Folk Art–and where she was brilliantly Martha—having live chickens in cages to set the mood and serving tiny biscuits with ham along with other farm-inspired results. I progressed to dessert maven Maida Heatter's chocolate repertoire, Marcella Hazan for anything authentically Italian, and Joyce Chen for Chinese. (You get the point; I was obsessed with food and cooking.)
I also began to entertain with abundance. My friends and I did something we learned from our parents—the seated dinner party, though we cooked almost everything from scratch rather than have it catered or prepared by a cook. I'd spend Thursdays planning the menus with my cookbook collection spread out on my bed and running the menu by my husband. Fridays after work I'd grocery shop, while he bought the wines, and Saturdays I'd cook almost all day. There was the long-simmered Julie Child beef bourguignon, an appetizer smorgasbord I plated with mushrooms a la Greque, cucumbers marinated in dill, celery root remoulade, and mustardy shrimp, all with the finale of a big coconut or chocolate cake! And the guest list would be a smorgasbord, too, for livelier conversations. The table setting was less of a concern to me, except a desire to be creative with place cards, using Silver Palate's sugar-cookie heart recipe that I iced with first names.
Our earliest New Year's Eves were spent as part of a gourmet pot-luck group where the cardinal rule was everything had to be homemade, none of this from a box or take-out nonsense. We  debated what to cook, and a few of us still rhapsodize about Ed S's great egg rolls he learned in a cooking class, a failed beef Wellington Nancy G and I attempted but couldn't perfect because of our soggy puff pastry which he hadn't perfected making, my marinated cold carrots that I dubbed "Lou's carrots" after my first boss who shared the recipe, though he had borrowed it, and a Caesar salad recipe my husband had borrowed from a law school classmate, which consisted of 2-minute coddled eggs, perfectly shredded lettuce, crushed anchovies,  and homemade croutons sautéed in gobs of butter.
When we moved to the Midwest and entertained frequently for business and pleasure, I never thought of the time I was spending, probably in the same way that pioneer women never counted their hours stitching a quilt. I loved the process as much as the results.
But once single after a divorce and with fewer couples wanting to spend their extra time that way or include me, I dialed down the effort dramatically. I learned the cooking equivalent of speed dating—check out a recipe and cook it fast, similar to how folks eyeball one another at a table and move on to the next possibility. I mastered cooking a handful of recipes when the infrequent times occurred that I needed to entertain. In fact, I got so efficient I could cook everything within an hour or two, often grilling salmon marinated in a cousin's product line of chutneys, roasting fresh vegetables, buying a great bread, and cutting up fruit to top of some great ice cream or sorbet. As time went on, I got even lazier in my creativity and stopped buying cookbooks at all. I looked online at one of the many food sites or one of the food magazines I still subscribed to if I wanted to add something new to my limited repertoire.
And when a certain Fixup entered my life and showed his eagerness to become Salad Guy, I no longer had to worry about that part of the meal. He concocted a great looking, tasty course based on what else I was serving or our mood. Some times it would mean chick peas, cut-up broccoli, cucumbers, a sprinkle of cheese, and dried cranberries for color, and other times avocado, olives, almonds and red or yellow sliced peppers, again for color and crunch. And he always used his same French salad dressing—three parts oil to one of acid—lemon juice or vinegar, plus salt, pepper and Dijon mustard to taste.
If friends showed up on a Saturday or Sunday for lunch, they were invited to share our pizza of the week with store-bought fresh dough, which we rolled out after rubbing the pan with oil, dusting it with cornmeal, baking it a bit to make the crust crisp, and topping it with an array of  colorful fresh ingredients—broccoli, mushrooms, onions, garlic, tomato sauce, and sometimes shrimp. We photographed our proud results before digging in and critiquing. This foray was short lived for the pounds piled on almost as quickly as we piled on the toppings.
I no longer have enough friends nearby to organize my old-fashioned labor intensive dinner parties.  I satisfy that culinary yearning come Thanksgiving dinner when I become territorial about making the desserts. The exceptions are  my younger daughter's perfected pecan pie, or when I bake during Christmas time and dole out sweets as thank-yous, often now making Ina Garten's ruglelach, which mimic well those my 95-year-old mother made before her eyesight and legs started failing.
When I'm brutally honest with myself, I realize the process of planning, cooking, serving, and definitely clean-up no longer holds much allure. I've become an armchair cook and virtual chef. I take greater pleasure now lying in bed with new cookbooks borrowed from the library, my latest Bon Appetit magazine or the occasional splurge of a Saveur, and the New York Times' Wednesday "Food" section. I also relish my culinary conversations live or online with friends about their latest attempts, failures and successes—Amy's suggestion from Real Simple magazine of Parmesan-scallion pastry pinwheels using packaged puff pastry, my daughters' chocolate chip gluten-free Paleo pound cake (we've had better for sure); Margaret's latest company-worthy dish now that she's gotten into cooking, and conversations with my pilates' teachers between side kicks, roll-like-a-ball and scissor moves about—what else–their latest meals in our neighborhood.
I still can plan the perfect dinner party, but only in my head or on a computer screen. 
Real Simple's Parmesan-scallion Pastry Pinwheels
1 sheet frozen puff pastry
1 large egg, beaten
3 scallions, sliced thinly
¼ cup plus 2 tablespoons grated Parmesan cheese, about 1 ½ ounces
Kosher salt and black pepper to taste
Heat oven to 400 degrees F. Line a baking sheet with parchment paper. Unfold the pastry and brush with the egg. Sprinkle with scallions, ¼ cup of the Parmesan, ¼ teaspoon salt and 1/8 teaspoon pepper. Roll tightly into a log, and freeze until firm but sliceable, about 20 minutes. 
Slice the log into ¼-inch thick rounds and place on the baking sheet. Sprinkle with remaining 2 tablespoons of Parmesan and bake until gold brown, about 12 to 25 minutes. Serve warm or at room temperature. 
Legal Caesar Salad
1 large clove garlic
4 small anchovy fillets
Salt and pepper to taste
2 tablespoons Dijon mustard
Drop of vinegar
Juice of 1 lemon
Head of Romaine
2 eggs
Any kind of bread
Butter for sautéing
¼ cup oil
Parmesan cheese to taste, grated fresh
Crush 1 large clove of garlic in bottom of bowl with spoon and fork. Crush 4 small anchovy fillets. Add salt and pepper to taste. Add 2 tablespoons of Dijon mustard, a drop of vinegar, juice of one lemon, ¼ cup oil. Coddle 2 eggs, which means put fresh eggs in boiling water for TWO minutes, scrape out shells and mix in bowl. Add one head of Romaine washed and dried lettuce up to one hour before you serve. Break lettuce into bits and set on top of dressing. Add croutons from bread you've cut into cubes and sautéed in lots of butter until brown but not black. Add Parmesan cheese to taste. Toss salad when guests arrive. Great the next day, too!
---