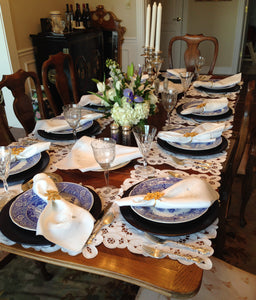 Single Serving
As a widow, I had to take entertaining into my own hands. Two years after the death of my husband, I was ripe to have new adventures as a single. Top on the list was throwing my first ever formal dinner party—certainly not black tie but hors d'oeuvres, a three-course meal,  real silver, good china and lots of wine.
For the most part during my 42-year marriage, our social life was pretty routine. We went to movies in groups, ate dinner at restaurants with many of the same couples, had them over sporadically, and they invited us back. Nothing fancy. However, by the mid-1970s, many of our friends started throwing elaborate dinner parties following recipes from Graham Kerr, Julia Child, Wolfgang Puck or James Beard.
That was out of my marital comfort zone. We rarely entertained, much less in formal fashion. And back then, I wasn't much of a cook. There's a good reason. As a child, I was not allowed into the kitchen, and my mother shouldn't have been allowed there, either. She didn't enjoy cooking, and the few times my parents invited guests for dinner, my mother broiled lamb chops, roasts or steaks until they were almost the color of mahogany. They were unimaginatively accompanied by baked potatoes or boxed macaroni and cheese, canned Brussels spouts or asparagus.
My husband and I preferred to entertain in our backyard dressed in jeans or shorts with a menu planned around his favorite barbecued foods – roasted corn on the cob, baked beans, hot dogs and thick burgers served on paper plates with plastic flatware and paper napkins. We did all together. He grilled, selected the right wines and beers, and we shopped for ingredients. I assembled the side dishes and often bought the dessert, made chocolate chip cookies (my one specialty), or asked someone to bring their choice.
Shifting gears
When I became single, everything changed with my first formal dinner party. I had missed out on this piece of my married life so why not try it now, I reasoned. I wanted to see if I could do it–alone. I knew it would be a challenge yet rationalized that it could be fun. I had more time once I retired from my full-time job, and I was living in my mother's spacious condo, which offered the perfect setting for a proper sit-down Downton Abbey style repast. The downside would be the expense, perhaps a ruined meal where everybody would go home famished and gorge on what was in their refrigerators or never come again.
The Four Ws: Who, what, where and why
I tried to approach the task in an organized fashion. First was deciding on a date, time, and guest list.  I took out a legal pad and planned all like I would a story. I considered the chemistry of those who would sit around my table determined to shake up the usual cast of characters and include a few other singles. Food preferences had to be factored in too with this one a vegetarian who on occasion eats fish, another a vegan and gluten free person, one with a peanut allergy, another who never eats red meat but her husband is on the Paleo diet so go figure what they do at home, and another who dislikes cooked green vegetables. I settled on 10 guests and sent an e-vite.
With that out of the way, I sat down to plan the menu. I wanted to make it easy yet elegant without spending the evening trapped in the kitchen. Over the years, I have absconded with dozens of recipes from restaurants and online sources. Many have become standbys that I make for my new male friend like chicken raspberry from the Silver Palate cookbook, a tomato sauce from Marcella Hazan's The Classic Italian Cookbook, or a pasta bolognaise from a Sebastiani family cookbook that carries an inscription from the family matriarch to my husband.
I'd start with a simple salad of field greens and homemade balsamic vinaigrette. For the entrée, I wanted to cook something new, worthy of a top rating from a Michelin guide but a recipe that wouldn't be a grind and made with ingredients available only at the city's specialty food markets. Choosing the right dish took almost more time for me to decide than preparing a tax return. Fortunately, I got a tip from the husband of someone I was interviewing for a story who slipped me his favorite foolproof dinner party recipe culled from a Napa Valley restaurant. It was grilled filet of Pacific salmon with Thai red curry sauce and Basmati rice.
A quandary: Wines to quaff with Asian fare
Pairing Asian foods and flavors with wine can be a challenge. The best combinations I discovered from writing about the marketing of wine and reading wine e-newsletters, are aromatic or fruity white wines or a Riesling with a hint of sweetness. Reds that tend to work best are a Syrah, Pinot Noir and many Rhones. I have a great local wine merchant and a daughter in the wine business, to help with my choices. Part of the fun would be making the selections by going to tastings and sampling this and that.
Sweet endings
For dessert, I would concoct a rich, divine chocolate cake suggested by Barbara, which she found in Scott Peacock and Edna Lewis' Southern cookbook, The Gift of Southern Cooking. Barbara had eaten at Peacock's restaurant Watershed in Atlanta and raved. I made it my own by serving it with fresh raspberries and real whipped cream. For the wine to complement the chocolate dessert, I'd use a full-bodied Cabernet that my daughter had brought on her last visit.
Setting the stage
Fortunately, two days before the party, my sister, a younger version of entertainment guru Perle Mesta, was in town. She set the table with me lining up elegant white lace placemats and matching napkins across my gleaming wood table, gold napkin holders, blue and white Spode dishes and a flower arrangement she suggested of white hydrangeas and tulips with blue-purple Irises to complement the china. I used my mother's Waterford crystal and the sterling silver flatware I received as a wedding present.
Day of the party
I spent most of the day cooking, and two hours before guests were to arrive, it was time to set the stage. I vacuumed, puffed pillows, dusted, washed and ironed the linen towels for the powder room and made sure there was soap and plenty of tissues, put out my favorite chocolates and nuts and napkins for the hot and cold hors d'oeuvres I would serve. I filled the ice bucket, set out the right wine glasses, chilled the white wines and slightly chilled the reds. I turned on certain lamps, dimmed overhead lights, put new candles into candleholders to add a dash of romance and surveyed the scene. Lack of music was the one missing ingredient; I didn't yet have a sound system.
All the props were in place when the first guests arrived. I handed each a glass of Prosecco to loosen them up, a tradition my husband and I had observed, and which I wanted to continue as a way to include him in my first solo performance. I passed hot mushroom tartlets and caramelized bacon I had prepared a few hours earlier that matched well with the Prosecco. I also placed on the coffee table three wedges of cheese from the Loire Valley my brother and his wife sent me for the holidays.
It was onto the dining room after an hour, where the conversation continued to flow. There were lots of "oohs" and "ahs" about my preparations, as well as some shock. "I didn't know you could cook, Margaret!" Several asked for recipes, which I promised to email the next day.
At the end of the meal, as we headed into the living room for coffee and other after-dinner drinks, everyone settled in comfortably. I took a mental snapshot of the continued banter, the fact nobody had been eager to leave, and the realization that my first fancy dinner party had been a huge success. I was proud of my new-found expertise, albeit exhausted. Once was enough, I thought to myself as I crawled into bed a few hours later and threw the covers over my head determined never to emerge much less throw a formal dinner party again. Next time, I will slink back into my marital comfort zone of casual entertaining.
Grilled Fillet of Pacific Salmon with Thai Red Curry Sauce and Basmati Rice
(recipe adapted from TERRA)
Serves 4
Basmati Rice
1 cup basmati rice
½ teaspoon salt
11/2 cups water
I also throw in about ¼ to ½ cup of pistachios and the same of currants or dried apricots
Thai Red Curry Sauce
2 teaspoons peanut oil
1 teaspoon minced garlic
1 teaspoon peeled fresh ginger
1 teaspoon coriander seeds, cracked
1 ½ teaspoons curry powder
1 ½ teaspoons Thai red curry paste
1 ½ teaspoons paprika
½ teaspoon ground cumin
1 ¼ cups unsweetened coconut milk
2 tablespoons plus 2 teaspoons tomato puree
2 teaspoons soy sauce
1 tablespoon plus 1 ½ teaspoons firmly packed brown sugar
4 (6-ounce) king or Atlantic salmon fillets, each 3/4th inch thick
1 tablespoon olive oil
Salt and freshly ground black pepper
½ teaspoon soy sauce
2 teaspoons rice vinegar
1 tablespoon coarsely chopped roasted peanuts
Prepare a fire in a charcoal grill or preheat a gas grill or preheat the oven to 400 degrees.
To make the rice:
Preheat the oven to 350 degrees. Wash the rice in a colander under cold running water for one minute, then drain well and set aside for 10 minutes.  In an ovenproof saucepan, combine the rice, butter and water. Cover with a tight-fitting lid and cook over high heat until strong steam comes out from under the lid. Remove for the heat, put the pan in the oven and bake for 12 to 14 minutes, or until the rice is tender and all the water is absorbed. Add the crushed pistachios and the currents or apricots. Set aside and keep warm.
To make the sauce:
In a medium saucepan over a medium heat, heat the peanut oil and sauté the garlic and ginger, until the garlic is lightly browned. Remove the pan from the heat and add the coriander seeds, curry powder, curry past, paprika and cumin. Decrease the heat to low and sauté for about 2 minutes to release the oils and flavors; be careful not to burn the mixture. Stir in the coconut milk, tomato puree, soy sauce and brown sugar. Increase the heat, bring the sauce almost to a boil and remove from the heat. Don't let the sauce boil or it will separate. Keep warm or reheat gently before serving.
To cook the salmon:
Marinate the salmon in olive oil and salt and pepper. If you grill the fillets, do so for about 2 ½ minutes per side for medium rare or until browned on the outside but still slightly translucent in the center. Or, heat a grill pan or skillet over high heat until very hot and cook the fillets for about 2 ½ minutes per side for medium rare, or until browned on the outside, but still slightly translucent in the center. Or if you do it in the oven, put the fillets on a grill pan and cook between 14 and 16 minutes.
To serve:
Place about ½ cup rice in the center of each of 4 warmed plates. Ladle ½ cup of sauce around the rice, then place the fillet on top of the rice. Sprinkle the sauce with the peanuts.
Scott Peacock and Edna Lewis' Chocolate Cake
Preheat oven to 325 degrees
Sift together 2 cups granulated sugar, 1 1/2 cups CAKE flour, 1/2 teaspoon salt and 1/4 teaspoon baking soda in bowl. Pour 1 cup hot double strength coffee over 4 ounces unsweetened chocolate, finely chopped. Allow chocolate to melt.
In separate bowl, whisk 2 eggs at room temperature and 1/2 cup vegetable oil, followed by 1/2 cup sour cream at room temperature, 1 1/2 teaspoons vanilla and coffee-chocolate mixture. Stir this liquid into dry ingredients by thirds, stirring well after each addition until blended. Divide batter evenly between two buttered and floured parchment lined 9-inch cake pans. Drop each cake pan once on the counter to remove large air pockets. Bake in oven for 30 to 40 minutes until cake is done. Cool before removing from pans.
For frosting. Heat 1 cup heavy cream, 8 tablespoons unsalted butter in pieces, 1/3 cup granulated sugar until butter is melted. Add 1 pound semisweet chocolate chopped and cook over low heat until chocolate is melted and mixture is smooth. Remove and blend in 1/4 cup double brewed coffee–don't do this, why? and then 1 teaspoon vanilla. Transfer to bowl to cool and stir until spreadable about 1 hour…I say 1 1/2 hours or more. thickens beautifully. Spread on cake when layers are cool. Serve with whipped cream or ice cream and berries.
From The Gift of Southern Cooking!
---